Training Center / Research Center
The two well-linked centers are the bases for experiments and research.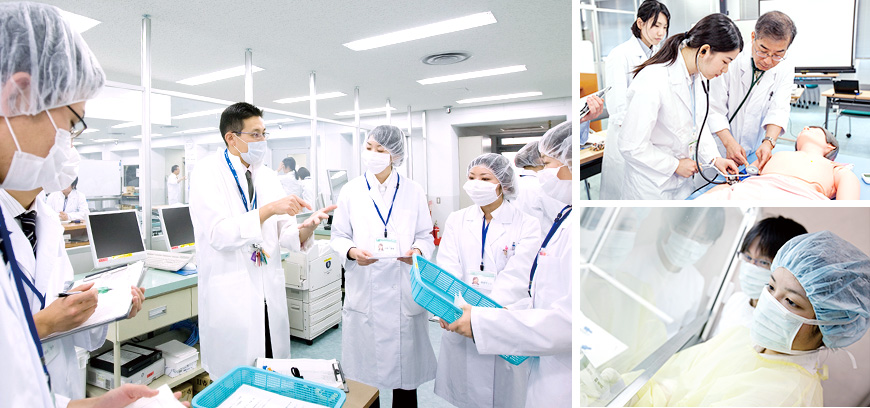 The Training Center and Research Center are located in a quiet area away from the center of campus, providing an ideal environment for conducting training and research. The two buildings, which are well linked with connecting corridors on each floor, are equipped with the latest experimentation and research equipment. Recently, construction of a model pharmacy and model hospital room was completed within the training center.
Training Center
Facilities for the smooth conduct of prolonged training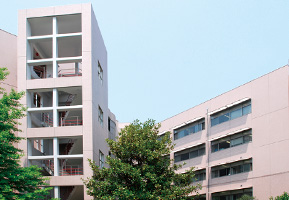 The Training Center houses training rooms and a computer lab on the second through fifth floors. Attention is paid to safety in the training rooms, which are equipped with monitors displaying the experimentation method, providing close-at-hand understanding of procedures. The Instrument Analysis Equipment Research Center and Radioisotope Research Center, located on the first floor, support advanced pharmaceutical research.
Research Center
Working on cutting-edge pharmaceutical research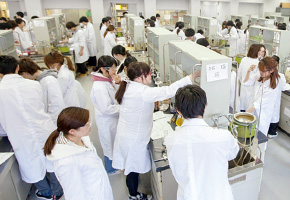 The centerpiece of the Research Center is its group of 15 specialized laboratories for conducting cutting-edge pharmaceutical research. Experimentation and research facilities include an experimental animal breeding facility, an electron microscope laboratory, a DNA experimentation laboratory, a tissue culture laboratory, and a low-temperature laboratory. Like the Training Center, the Research Center is actively used by students, instructors, and staff alike.
RI Research Center

Using Radioisotopes (RI) to Explore How Substances Behave

 
 

The fact that radiation can be detected with a high degree of sensitivity makes it possible to learn about the intracellular and in vivo behavior of trace amounts of drugs and biomolecule using RI. For this reason, experiments using RI are indispensable for pharmaceutical research. The RI Research Center is a facility for conducting RI experiments safely under a variety of management and monitoring protocols.

Pharmaceutical Research Using RI

Elucidation of Disease Mechanisms and Development of Diagnostic Imaging Agents

The facility is equipped with shared equipment including a BAS 5000 bioimaging analyzer system, a liquid scintillation counter, and a gamma counter for RIA. This equipment is used to carry out research related to the development of diagnostic imaging agents and research into elucidating disease mechanisms such as the analysis of protein modifications.

Instrument Analysis Equipment Research Center

State-of-the-Art Analytical Instruments that Contribute to Molecular Level Analysis in Pharmaceutical Research

 
 

Molecular-level studies are indispensable to advanced pharmaceutical research. At the Instrument Analysis Equipment Research Center, we make full use of various analytical instruments such as our Nuclear Magnetic Resonance Spectrometers, which use magnetism to analyze the molecular structure of compounds, to de-mystify the microscopic world in order to support pharmaceutical research.

Synthetic Research

Obtaining Data on Molecular Structures of Compounds to Get to the Next Step

At this research facility, researchers carry out measurement and analysis using various analytical instruments. For example, synthetic research on organic compounds requires knowledge of the molecular structure of synthesized compounds. This means that information obtained from various analytical instruments will serve as the basis for determining the structure of a given compound, and its examination based on more specific experimental protocols.

Analytical Instruments

Introducing the Latest Analysis Instruments

This research facility is equipped with the following state-of-the-art high-performance analytical instruments, which are useful for the elucidation and understanding of scientific and biological phenomena by the high-precision analytical methods, which also contribute to drug discovery.

Nuclear Magnetic Resonance Spectrometer (NMR)
Mass Spectrometer (MS)
X-ray diffractometer (XRD)
Circular dichroism dispersion meter (ORD-CD)

Experimental animal breeding facility

For progress and development in pharmaceutical science

 

SPU's experimental animal breeding facility (about 12,400 square feet of floor space) raises mice, rats, rabbits, guinea pigs, and other experimental animals. The facility, which is divided into an animal rearing space, research area, and three other areas, contributes to pharmaceutical research and education under a strict control system.

A rearing environmen

A rearing environment that meets strict requirements

The animal rearing space has 11 animal care rooms and three specific pathogen free (SPF) rooms specially designed to raise extremely clean animals. The research area has nine laboratories as well as an observation room.

Rule

Preventing contamination and thorough facility use rules

In order to protect the health of the animals, the animal care rooms are continually kept at an appropriate temperature and humidity, and structurally designed to make it difficult for sources of contamination to spread into the rooms. Moreover, a quarantine room has been established for conducting health examinations on animals, a facility operation committee has been organized, and thorough facility use rules have been put in place.

Model pharmacy / Model hospital room

A full-scale training facility to
prepare students for in-service training

 
 

As part of the six-year education system, students undergo preclinical training for one month during their fourth year to facilitate smooth in-service training during their fifth year. Construction of a cutting-edge model pharmacy and model hospital room was completed in the Training Center in the fall of 2006. Preclinical training will start with a test-run for students in the four-year education system to accumulate know-how.

Model pharmacy

Education adapted to the circumstances of modern medicine

The model pharmacy prepares students for working in hospital and health insurance pharmacies by providing education adapted to the circumstances of modern medicine, including insurance billing and electronic patient charts. In the model hospital room, which is equipped with a computer for looking up drug information, emphasis is placed on training students how to communicate with patients, including explaining how to take medicines.

Model hospital room

Practitioner instructors with a wealth of experience lead training

Preclinical training is led mainly by practitioner instructors who have a wealth of experience as pharmacists in hospitals and pharmacies. Students are taught dispensing and cultivate their communication skills for interacting with patients and performing other activities on the wards. In 2007, SPU also plans to complete construction of a prescription laboratory, pharmaceutical manufacturing laboratory, and a clean room.