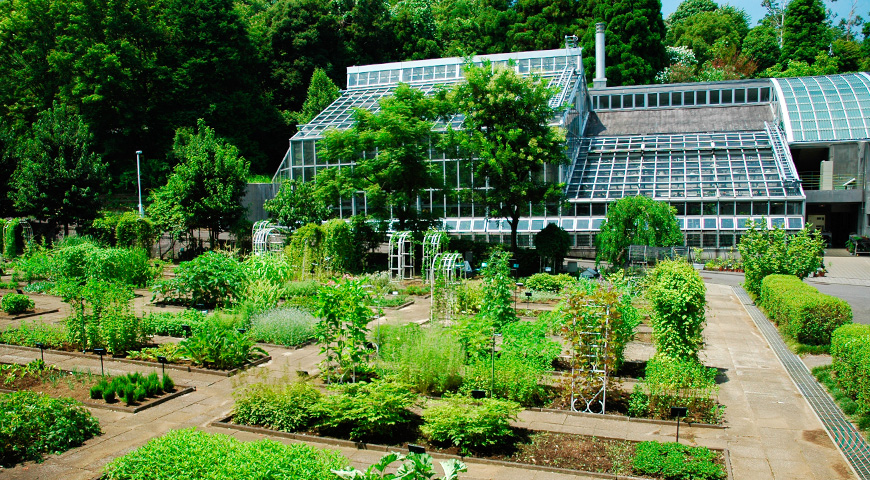 With a total area of 18,000 square meters, SPU's medicinal plant garden, located on the north side of the campus, is one of the largest in Japan, even for a pharmaceutical university. At the center of the garden is the greenhouse. Here students observe and study the plants -- or living textbooks -- that are the origin of pharmaceutical science.
A treasure house of medicinal plants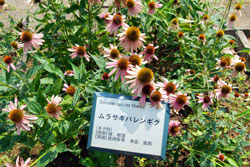 In the medicinal plant garden are numerous cultivatable herbaceous medicinal plants and trees, as well as a pond where students can observe hygrophytes and aquatic plants. The temperature and other conditions in the greenhouse, which is for observation of medicinal tropical and subtropical plants and trees, are controlled by computer. The laboratories on the second floor of the greenhouse house numerous samples of herbal medicines.
A nature study trail up the hills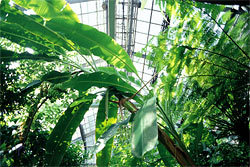 A nature study trail winds through the green spaces of the campus, including natural groves of trees. The green belt, which continues up the hills behind the greenhouse, provides numerous opportunities to glimpse wild birds and insects that are never seen in urban areas. This is an ideal path for getting close to and learning the workings of the natural world.