The core facility on the campus where students, staff, and faculty gather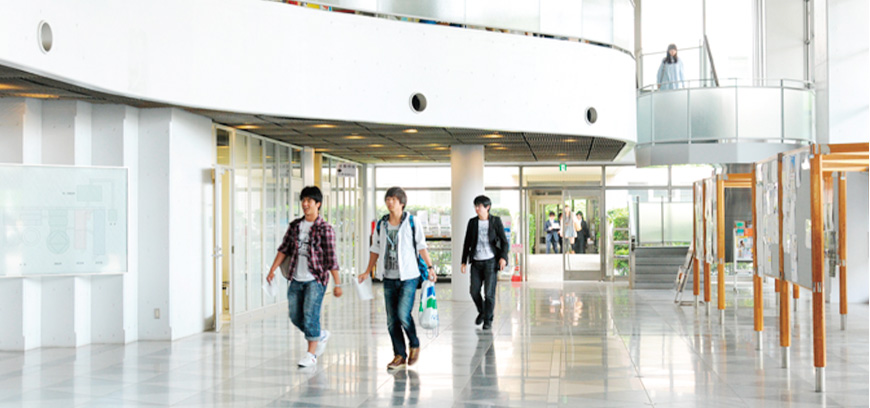 The MainBuilding, a four-story structure with one basement level, is located on top of a gentle slope overlooking the main gate. Nearby, a waterfall tumbling down and a large camphor tree welcome visitors into a refreshing atmosphere. As the core facility on campus, the MainBuilding contains the facilities listed below for each floor. A multipurpose square with terrace seating on a green lawn opens up in front of the restaurant in the MainBuilding.
| | |
| --- | --- |
| 1F | Administrative offices, restaurant, career information office, health office |
| 2F | Lobby, tea room, campus store |
| 3F | Library |
| 4F | Conference room |
1F, 2F
Support for student life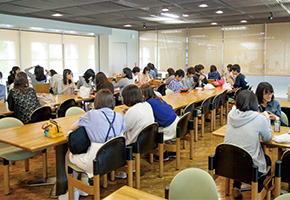 The Main Building houses a variety of facilities to support student life. The glassed-in Himawari restaurant located on the first floor is an airy, bright space. It also includes outdoor terrace seating as well as seating on the second floor. The second floor includes the Rindo tearoom, vending machines in the lobby, and a branch of the Kinokuniya bookstore. In short, an effort has been made to provide everything a student needs, including everyday items.
Library

The library features an open-stack system and its own homepage.


 

The library, located on the third floor of the Main Building, houses some 100,000 books and over 200 academic journals. The reading rooms feature study corners and an open-stack system in which patrons can freely access books they wish to read. The attached study rooms can be used even on holidays, providing students with an environment that enables self-motivated learning.

The reading room

Providing accessible learning

The reading room includes Pharmacy Licensing Examination problems and collections of reserved books assigned by faculty in charge of lectures and training courses. Students may use these materials freely.

Library website

Usable library website

The library's website functions as a portal site to all of the services provided by the library. Services include searching the library's collection of materials, delivery of image-based materials, and searching academic literature databases. In addition, patrons can freely download literature from over 5,000 electronic journals from in and outside Japan.