Main center for pharmaceutical education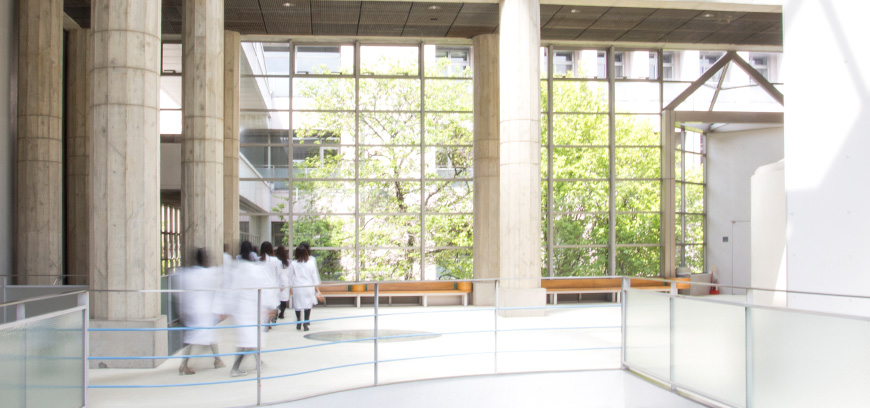 Seventeen large and small classrooms, seminar rooms, and the Memorial Auditorium are laid out functionally within the five-story Lecture Hall adjacent to the Main Building. Classroom No. 1, which has a seating capacity of 360 and a tiered arrangement of desks for easy viewing, is also used for lectures and meetings of academic societies. There are language labs located on the fourth floor that use English audio-visual materials.
Classroom No.1
Fully equipped with AV equipment in classrooms and individual student lockers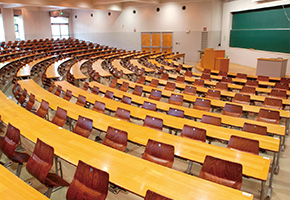 With computers becoming widespread in education and research, SPU's classrooms are fully equipped with AV equipment. In addition, classrooms are also equipped with individual student lockers, which is uncommon at universities in Japan.
Memorial Auditorium
660 person seating capacity Memorial Auditorium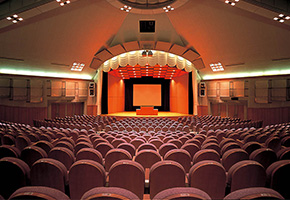 The Memorial Auditorium, located on the second floor of the Lecture Hall, is an elegantly designed multipurpose hall. It is used for enrollment and graduation ceremonies, campus festivals, and other school events, as well as academic society meetings, lectures open to the general public, concerts, and other events.